Yarra Valley Venue Interview - The Farm Yarra Valley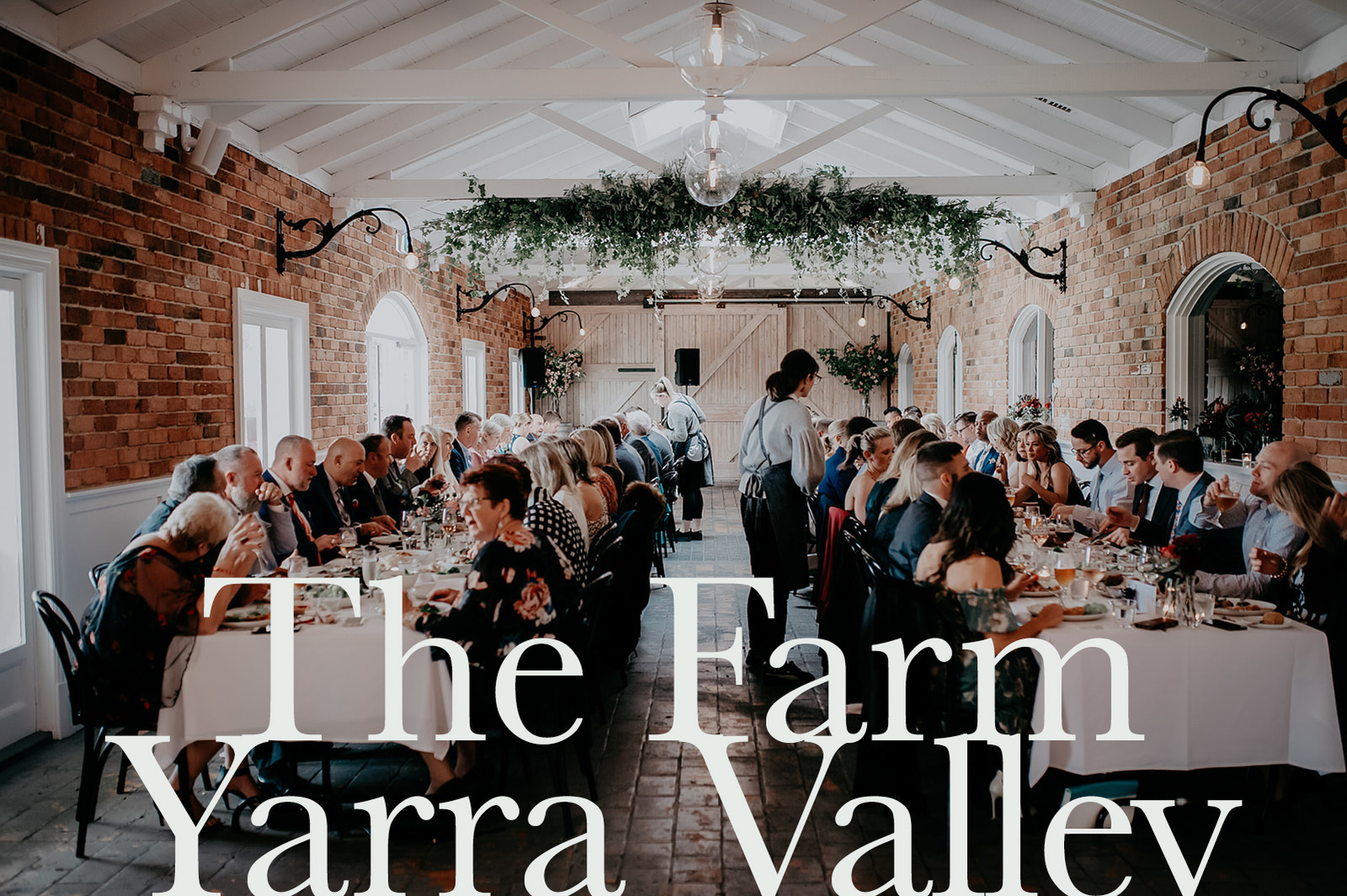 You will find The Farm Yarra Valley's elegant farmhouse at the top of a hill that looks out to rolling lawns, gardens and vineyards. Red brick walls and antique fixtures define the interior with the building opening out onto a generous timber verandah. Oh my, I do have to mention it's an absolute dream to photograph there and what about the food! Yes the food is incredible! We sat down with the wedding coordinator at The Farm to chat about the venue, take a read.
What is the overall vibe of The Farm Yarra Valley Wedding Venue? We're definitely a more relaxed vibe, in fact I reckon it's what we specialise in! With that said, the product that we deliver is absolute premium - provided in a relaxed way… if that makes sense!
What sets you apart from other beautiful wedding venues? I'd say a couple of reasons; firstly our food. Our communal dining is honestly incredible and it's become what we're known for, we're really proud of it. We get as much produce as we can from our own gardens whilst still utilising local suppliers, too.
We're also relatively unique in our look; you'd be hard pressed to find a venue quite like ours - it's a really good mixture of elegance with typical Australian scenery. It's often called a 'clean and bright, rustic' which I think sums it up!
Lastly, we're super hands on with our couples - the wedding planner who takes you on the venue tour when you're first engaged, is the same one fluffing your dress before you walk down the aisle, we're with our couples every step of the way.
How many guests can The Farm Yarra Valley accommodate? 110 for a sit down wedding, 150 for a canapé wedding.

How much experience does your team have? Oooh - this one is honestly a bit tricky to answer if I'm honest! I'm the new kid on the block, I've only been doing this for 4 years (since we opened), the kitchen team and floor have all worked in varied venues in the Yarra Valley and beyond… I'd say although the venue itself is relatively new, we're quickly developing some serious street cred, lol.

What are your suggestions for photo locations? The dam area is stunning and really easy to access - as well as the vineyard, and our sneaky back paddock with our favourite ladies, the goats.

Is there an indoor and outdoor option for the ceremony? Yes! 5 - 6 outdoor ceremony locations and 1 indoor alternative.

What would you top tip be for a couple who are looking for a venue? Make sure you read the reviews on the food if a tasting isn't available; sadly 6 months after your wedding most of your guests won't remember your colour scheme, or your flower type and they'll be super hard pressed to remember specific details about your dress or suit, but they WILL remember if they went home hungry!!

Also, ALWAYS check out the toilets - lol. They're super important!